---
Our Psychology-based Life Coach Certification Online Trainings blend Neuro-linguistic Programming (NLP), ICF Coaching Competencies, and Inner Dynamic Parts Work will take your coaching skills to the highest (and deepest) levels.
✓ 100% Online Training
✓ Self-Paced Coursework + Unlimited Live Sessions
✓ 30+ Live Sessions per Week
✓ Niche & Marketing Training
✓ 7-Day Money Back Guarantee
✓ Start and Finish When You Want – No Deadlines
✓ Lifetime Access to Live Sessions and Materials
✓ 24/7 Ongoing Trainer Support
✓ ICF Credentialing Help
Enrollment Tracks
Choose your Life Coach Certification Path:
ICF Level One (ACSTH)
Includes These Courses:


Includes 3 Certifications
• Certified Life Coach
• NLP Master
• NLP Practitioner
60 ICF Training Credit Hours
Unlimited Peer Coaching
(ICF Coach Practice Hours)
30 Live Training Sessions required

held in our Zoom classrooms.
Unlimited Marketing Training
Learn how to get clients!
Lifetime Course & Live Session Access
Or, Installment Plan Price:
$440/month x 8 months
Enroll Now
(Installment plan total payments=$3568. Does NOT include Hypnosis Training)
ICF Level Two (ACTP)
Includes These Courses:

Includes 4 Certifications
• Master Coach
• Certified Life Coach
• NLP Master
• NLP Practitioner
125 ICF Training Credit Hours
Unlimited Peer Coaching
(ICF Coach Practice Hours)
63 Live Training Sessions required

held in our Zoom classrooms.
Unlimited Marketing Training
Learn how to get clients!
Lifetime Course & Live Session Access
Or, Installment Plan Price:
$619/month x 10 months
Enroll Now
(Total Installment payments=$6190. Does NOT include Hypnosis Training)
ICF Level Two (ACTP)
Includes These Courses:

Includes 5 Certifications
• Mental Health Coach
• Master Coach
• Certified Life Coach
• NLP Master
• NLP Practitioner
125+ ICF Training Credit Hours
Unlimited Peer Coaching
(ICF Coach Practice Hours)
83 Live Training Sessions required

held in our Zoom classrooms.
Unlimited Marketing Training
Learn how to get clients!
Lifetime Course & Live Session Access
Or, Installment Plan Price:
$787/month x 12 months
Enroll Now
(Total payments=$7870. Does NOT include Hypnosis Training)
* Add-On choices: Advanced Hypnotherapy, Mindfulness, Weight Loss, Life Purpose, Spiritual Leadership, NLP Sales Training, or Coaching Package Creation Course. (Choose after enrollment)
How it Works
How our Life Coach Certification Online Training works…
Your life coach certification online courses are made up of four main training components:
Online Coursework
The online coursework consists of text, audios, and videos which you'll access through your Student Dashboard.
Offline Activities
The offline activities are integrated throughout the online coursework to integrate each new tool and skill you are learning.
Live Training Sessions
The Zoom live training sessions accompany your course material to provide a place to explore and discuss what you're learning with your trainers.
Life Coaching with Peers
You'll be matched with other students to practice your coaching skills and complete offline activities. (You can also work with people in your daily life.) This provides your ICF required coaching hours.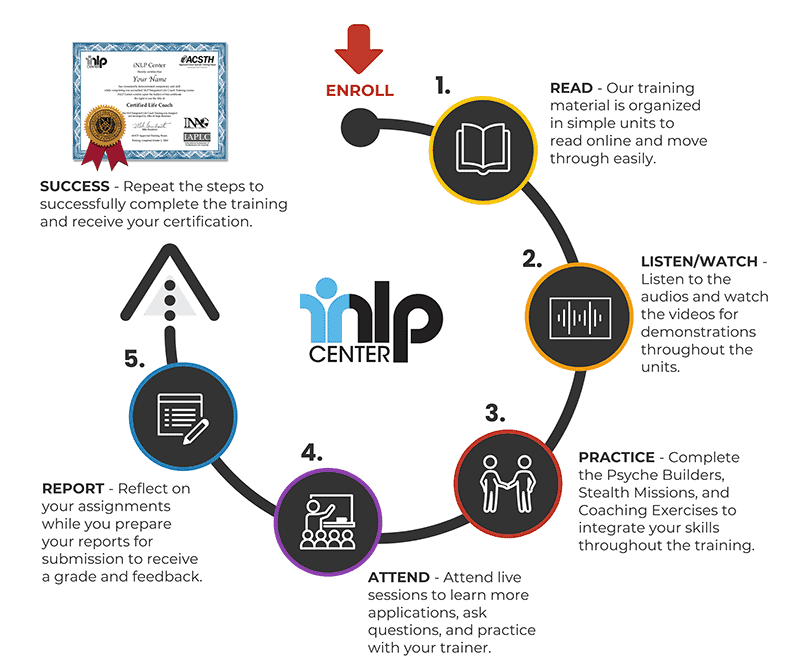 Schedule
Start Immediately & Set Your Own Schedule
No need to wait to start your life coach certification online journey! You can enroll now to start your training immediately.
Once enrolled you'll receive your Roadmap to follow step-by-step through your training.
Your Life Coach Certification Roadmap will tell you:
What modules to work on
Which activities to complete
When and what live sessions to attend
Things to plan ahead for in upcoming weeks
---
Ultimate Training Flexibility
With 30+ live session times per week available, you can attend our Zoom sessions when it's convenient for you.
Once enrolled, you'll receive a list of required live sessions that accompany your online and offline coursework. When you're ready to attend one, simply click on the listing in the calendar to pop into the session. No RSVP required!
Not in America? No problem! We have live sessions for all timezones!
Average Completion Times:
Life Coach Certification Track: 4-6 months
Master Coach Certification Track: 5-9 months
Mental Health Coach Certification Track: 6-12 months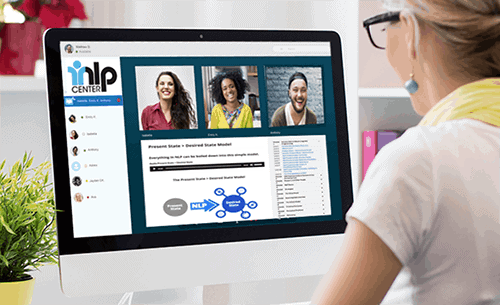 Want to see the listings in your timezone?
Share our calendar with yours by clicking the "+" sign above.
Syllabus
Part 1: All Tracks Start with our Life Coach Certification Online Training
---
Part 2: ICF Coach Mentoring (For All Tracks)
Once you've finished our life coach training
you'll begin attending our ICF Coach Mentor Clinics
---
Part 3: Master Coach Training (Master and Mental Health Coach Tracks only)
---
Part 4: Mental Health Coach Training (Mental Health Coach Track only)
NLP Coaching Tools
NLP Tools are the Keys to Effective Coaching
NLP is a set of models that allows someone to create cognitive behavioral change and build more resourceful states to achieve their goals. NLP is short for Neuro-Linguistic Programming. NLP models teach you how to see problems from new perspectives to find better solutions. NLP holds a vast library of tools and techniques that one can access to solve any problem they may face. This flexibility is what makes NLP the most suitable training for coaches in any niche or everyday people trying to move forward in their lives.
You'll Master these skills by the end of this training:
Ask Powerful Questions to Gain Better Insight
A single, powerful question can change the direction of a life coaching session and place a client firmly on the path to success. No life coach training or certification course should be without powerful language tools. You need to discover what's behind the words and open the client's minds to new possibilities.
Always know the right question to ask
Understand complex situations quickly
Uncover the right obstacles to goals
Gain critical insight when nothing is obvious
Get Yourself and Clients Unstuck
Being stuck is caused by the meaning we make out of any situation. When you can change the meaning you make, you can free yourself. You'll learn how to reframe any situation to get unstuck.
Redefine any situation to make it useful and productive
Develop world-class mental flexibility and insight
Develop strategies to achieve positive emotional states
Change "impossible" behaviors
Never get stuck again!
Learn How to Read Clients
Most people try to understand others by listening to their words, but there is so much more! If you want uncommon insight into people, you'll learn to interpret non-verbal communication. Then you'll be in a rare class of people who get paid to offer insights and direction.
Create rapport and trust based on the right cues from clients.
Discover new and important growth opportunities for clients.
"Read" others and know how to help without getting lost.
Build Rapport Quickly and Communicate More Effectively
Knowing how to build rapport with your client is a key to not only coaching them but turning a coaching inquiry into a paying client. Gaining rapport and the trust of your clients aren't limited to just verbal skills. There's a whole level of subconscious common ground you need to have. This gives your clients that gut feeling that they can trust you. If you're trustworthy, you should make it fast and easy for your clients to know it.
Create rapport with clients faster
Inspire greater trust ethically
Become a master of non-verbal communication
Become a highly influential person
Understand your client better
Overcome Obstacles to Achieve Goal
A life coach training without a focus on goal-setting isn't life coach training at all! Learn how to help your clients harness all their resources, anticipate obstacles, and look at their goals through a holistic lens to realize and achieve their desired outcomes.
Make goals achievable
Identify and overcome the right obstacles
Get specifically what you want from your life!
Master Decision and Motivation Strategies
Wanting something is never enough, you also need an effective strategy to get there. Making solid decisions and motivating yourself under any circumstance is a matter of strategy. Learn inner strategies – the mental building blocks and formulas – to produce any result on the inside before creating it in the world.
Make solid decisions
Motivate yourself easily and others easily
Create strategies for success
Understand key drivers of human behavior
Master the Language of Influence
Can you imagine taking a life coach training that does not teach specific skills to help you influence your clients toward change? Clients pay to be influenced in a positive direction. How can you influence them with integrity and respect?
Gain greater influence in the most respectful way
Effectively motivate, encourage, and inspire others
Help others access internal resources
Gracefully guide people through problems and decision
Understand your Past to Program your Future
The past and the future are organized in our minds. For most people, time is structured unconsciously, so they don't know how to intentionally learn from the past and stay motivated toward a bright future. Successful people know how to capture the best of past experiences, focus on the future see the big picture as well. How you think about life determines the results you get.
Change the perception of past and future to support your goals
Feel more excited, curious, and confident
Let go of the past and program your future for greater success
See the big picture to create positive expectations
Harmonize the past and future to create learning and motivation
Relationships form the basis of our daily lives, but do you know how to optimize them? Learn the three 'perceptual positions' that can be used to resolve relationship problems just by experiencing them.
Solve misunderstandings quickly
Develop greater perspective and compassion
Radically increase self-awareness
Make relationship decisions wisely
Let go of past, harmful relationships
Bonus & Add-Ons
Bonus Trainings:
★ Included with All Tracks:
Your Business & Marketing Guide
This course covers everything you'll need to plan and develop your marketing plan of attack. We'll cover everything from your business name, to your website, to search engine optimization, to how to attract clients. The biggest bonus of this course is the weekly live sessions that focus on you – answering your questions, giving you ideas, and even reviewing your current marketing strategy and website. We meet you wherever you are in your marketing process.
★★ Included with One-Time Payment option for All Tracks:
Hypnosis Practitioner Training
In our Hypnosis Practitioner Training course you'll learn the fundamental hypnosis skills such as hypnotic voice, suggestibility, inductions, and deepeners, as well as learning the presenting problem protocol to assist you with your hypnosis session. You'll also learn how to write your own custom scripts and suggestions to help your clients achieve their desired outcomes. This training also includes unlimited live training sessions with your trainer.
---
Add-on Trainings:
★★★ One free add-on with One-Time Payment option for Mental Health Coach Track
Life Purpose Coach Training
Many new life coaches enter the field seeking a new path that represents a deeper purpose. The Life Purpose Coach Training will help you clarify your purpose further so that you can lead clients down a similar path.
Weight Loss Coach Training
Willpower is not enough to lose weight. Learn how to apply NLP to teach your clients how to lose weight, how to use use their internal dialogue to manage their emotional part at meals to achieve their ideal well-being.
Adv. Hypnotherapy Training
This advanced course will include the study into regression, a deeper understanding of the subconscious and how it ticks, and how to fully utilize its abilities to better the client and help them achieve their goals.
Mindfulness Practitioner Training
This training consists of material that covers historical, scientific and practical information about mindfulness, guided meditations to support your practice, and unlimited live sessions.
Spiritual Leaders Coach Training
This course equips you to serve as an effective coach for those who are spiritual leaders. This program will help you identify and assist clergy members and other spiritual leaders to be more centered, effective, and balanced in their work and life.
Coaching Package Creation Course
This workshop training will teach you how to build a coaching package that meets the specific needs of your ideal client. By the end of this training, you will have a complete coaching package ready to market to the public. As well, as a coaching session blueprint that you can use during your coaching sessions to stay on track.
FAQ's
FAQ's – Life Coach Certification Online Questions
How long does this life coach certification online training take to complete?
You will spend approximately 160-200 hours on your life coach certification online trainings, depending on your track. You will also spend additional time coaching others to accrue the required coach practice hours for your ICF credential(s).
The NLP-Integrated Life Coach Training will take approximately 160 hours.
The ICF Mentor Coaching will take 10 hours (over 10 weeks)
The Master Coach Training will take 22 hours (can be concurrent with the Mentor Coaching)
The Mental Health Coach Training will take 30 hours weeks (approx. 3 hours per week for 10 weeks – small group training)
What is a Mental Health Coach?
Mental health coaching is a relatively new development within the field of life coaching. While respecting the coaching core competencies, mental health coaches are able to dig deeper into transformative inner work with clients. Read more here.
Will I earn my ICF credential when I finish the training?
You will receive your certifications from us once you finish your training tracks. To obtain your ICF credential you will need to apply for it through ICF. We will help you with the process and make sure you have met all the requirements.
Our Life Coach Certification Track (purple) meets the training and mentor requirements for the ACC credential.
Our Master Coach (green) and Mental Health Coach (blue) Tracks meet the training and mentoring requirements for the ACC and PCC credentials. The Mental Health Coach Training meets the renewal requirements for the PCC or can be used towards the MCC credential.
Do you provide the coach practice hours required for an ICF credential?
We provide the required coach practice hours (100 and 500) to obtain the ICF ACC and PCC credentials through our Coaching Buddies and Practice Partners programs, which are included with your training.
Will there be a test at the end?
There are no quizzes or tests at the iNLP Center. All assessments are experiencial.
This training isn't just theory. You'll be actively practicing what you're learning on a daily basis. From there you'll submit short response reports on the actvities you complete throughout the training.
At the end of each course you will also submit coach demonstration audios for evaluation.
If you are in our Master Coach or Mental Health Coach Training, you will submit your coach demonstration audios directly to us for ICF credentialing.
Can I take each course of a track individually?
Yes, you are able to start with the Life Coach Certification Track and add on the Master Coach Training, then Mental Health Coach Training. However, you will pay the course fee for that individual course, not just the price difference between tracks.
For example, our Master Coach Track is $5900. If you enrolled in the Life Coach Track for $3400, you would pay $2800 to add on the Master Coach Training later. The total paid would come to $6200, instead of $5900.
The Mental Health Training is $1999 individually. To add on the Mental Health Coach Training you must be enrolled in the Master Training first.
In what language is this training conducted?
This training is delivered in English. However, English is not the first language of roughly 40% of our students as we have students from over 70 countries! If you are concerned about your ability to understand our training material or communicate during Zoom classes, feel free to contact us.
We also provide the same NLP-Integrated Life Coach Certification Training at our Portuguese, Italian, and Spanish online training centers.
Is there a money-back guarantee?
Yes! There is no risk to you!
If you are not satisfied within 7 days of enrollment and have not completed more than two training modules, just contact us for a complete refund. No questions asked!
Reviews
Student Testimonials
Thank you to our awesome students!
---