Video may take a few seconds to load.

---
Now that things are starting to make sense…
You can begin to overcome self-sabotage once and for all.
To understand how to finally put mental and emotional blocks to rest, you've got to understand the following three facts.
Fact #1: Self-sabotage is not mental illness.
It's a deep-seated mental and emotional pattern that needs to be understood and reversed. When it comes to self-sabotage, there is nothing organically wrong with you. You aren't broken. There is great reason to be hopeful with the right intervention.
When you self-sabotage, you are following a subconscious mental and emotional script that was established long ago. That script can be changed with the right intervention.
There isn't a magic wand that will vanquish your self-sabotaging tendencies in a moment, unfortunately. However, there is a very effective and unique approach that leads to healing and ultimate freedom from self-sabotage.
Fact #2: Typical personal development and therapeutic techniques do not work with self-sabotage.
Most self-help and therapeutic interventions assume that the client wants positive change.
The truth is, part of you wants positive change. And part of you wants to remain the same – and is even highly motivated to hang onto the negative emotions and suffering that has been so familiar in your life.
In some cases, we don't even know who we'd become without our familiar, dysfunctional mental and emotional habits.
Unless you address the aspect of your nature that refuses to change and even drives you further into misery, you'll fail to heal.
The raw truth is that – deep down – most people have already decided to fail before getting started on a personal growth goal.
Fact #3: You must to take a different approach than ever before when dealing with self-sabotage.
Remember, your self-sabotaging nature – and mine – does not WANT to get better. Typical approaches to growth, success and healing simply do not account for this fact.
They don't account for the part of you that is driven toward the unhappiness and pain. That idea almost seems absurd!
Yet, take a look at your life or the lives of people you've met. Wouldn't it make sense that some part of human nature is driving people toward unhappiness, especially since so much unhappiness can be avoided?
We've got to take this issue seriously if we are going to end the vicious cycles of self-sabotage in our lives.
How you can move forward from here:
If this is making sense to you, then we'd like to invite you to participate more fully in the AHA Solution so that you can see the liberating results in your life.
The full AHA Solution program is an unlimited access program that helps you put an end to self-sabotage — once and for all.
It's a 100% online program that gives you the tools you need to change the most "change-resistant" aspects of your life.
Here are some of the things you'll learn inside The AHA Solution…
• Discover the "root cause" of chronic negativity, worry, self-criticism, and failure. (Tip: We all tend to set ourselves up for failure. But knowledge gives you the power to change that behavior.)
• Why The AHA Solution works while other self-help programs fail. (Hint: We tackle what is known as the "basic neurosis" — the fundamental problem beneath all other psychological problems. Once that issue is understood and addressed, you get a new lease on life.)
• How to make changes in your life that you've always felt were "impossible". (Tip: When you change your fundamental programming, new possibilities open. Get rid of the old mental scripts and notice the new choices that appear.)
• How to achieve emotional freedom. (This lets you CHOOSE how you respond to events in your life… instead of having events control how you feel. You'll suddenly experience a new sense of discipline and freedom.)
• How to gain freedom from relationship drama. Learn to increase your self-confidence, personal power, and self-esteem… so you don't get sucked into negativity and "vicious circles." (You'll be able to stand firm — and be at peace — even when others try to provoke you.)
• How we unwittingly seek failure — over and over again — as a result of negative psychological attachments. The AHA Solution shows you how to turn this pattern around. (Hint: Life becomes simple when you learn to get out of your own way.)
• How the subconscious mind is pre-programmed with limiting beliefs. (This is why we end up in bad relationships, with failed goals, and without purpose or direction in life. Our training helps eliminate the cause… freeing you from negative thoughts and feelings.)
• How damaging lessons you learned long ago (whether you remember them or not) serve as "negativity magnets" in your adult life. (Tip: Once you learn to recognize the source of your emotional pain, you'll be able to live a richer life… the life that you should be living.)
• Learn to raise your self-awareness, expand your consciousness, and gain fresh insights. (Hint: Once you do, you'll be able to decide what you want… and take action to make it happen.)
The above is a small taste of what we cover in the full AHA Solution program. We invite you to move ahead and join us on this journey. It's a life changer. Will you come along?
Here's what you get when you order…
The AHA Solutionincludes…
=> 13 downloadable videos that explain the program and how to use it. The videos cover the entire "AHA Process" for changing the 12 negative attachment patterns that are holding you back.
=> The AHA Solution worksheet. Print it out and use it throughout the day.
=> An "attachment types" summary sheet. Lets you see everything at a glance.
When you order, you'll receive ACCESS to the FULL PROGRAM… everything you need to succeed.
Over the years at the iNLP Center, we developed several personal growth programs. We'd like to include these comprehensive programs for you as well, at no additional cost.


BONUS #1: Zen Motivation: Beyond the Carrot and the Stick
Making personal changes can be tough. Even when we know those changes will lead to greater success — we still resist. One reason for this astonishingly high failure rate has to do with the typical methods used for self-motivation. Zen Motivation changes the quality of your motivation at the most fundamental level.
BONUS #2: Tame the DMN for Chronic Stress Relief
The Tame the DMN stress management program pinpoints the specific brain network responsible for generating the spinning thoughts and mind chatter that define high stress living. Learning to deactivate this brain network will help relieve your chronic stress… and change your life forever.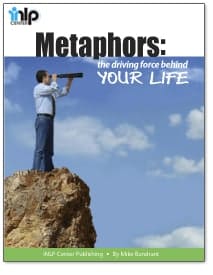 BONUS #3: Metaphors: The Driving Force Behind Your Life
So often we act as if we don't have a choice in the way we experience life. The truth is, you can radically change your world by changing your Life Metaphor.
BONUS #4: Cooling the Fire: The Conflict Resolution Strategy
Most of us attempt to resolve conflicts with other people in an unproductive way. We tend to do the exact opposite of what we should. Cooling the Fire explains why typical conflict resolution methods are ineffective… and introduces a better model.
BONUS #5: Three Soul-Stirring Questions
As you make an effort to improve your life, consider the following: What if some of your deepest needs were overlooked? Three Soul-Stirring Questions is an NLP-based course that will help you achieve higher self-awareness and greater personal freedom.
These BONUSES, alone, are worth more than the modest cost of The AHA Solution. We're including them because we want to provide incredible value.
Your Full Satisfaction Is 100% Guaranteed.

Download The AHA Solution today. If — anytime within 7 days — you're not completely satisfied, simply contact us for a FULL REFUND.
You'll benefit greatly from the course or we'll give your money back… with NO questions asked, NO catches, and NO nonsense.
The AHA Solution REALLY WORKS. Prove it to yourself… RISK FREE.
For a limited time, you can get our entire Personal Development Program, which features The AHA Solution and ALL five bonus programs, for just $139 (Reg. $199)

This is our way of making the decision a no-brainer. Our mission is to get this healing knowledge out into the world, and we hope you'll see the unusual value.
We GUARANTEE that it will help you. If it doesn't… you've lost nothing. This is a RISK-FREE offer.
All you need to succeed is our program and a willingness to look at yourself openly and honestly. So, if you're ready for a change, this may be the solution that's always been missing in your life.