---
Download our Brochure

How does the NLP Certification program work?
Our NLP Certification is conducted entirely online. You have access to the training center 24 hours a day, every day of the year!
You can work on your certification at your own pace. Once enrolled, you will be directed to our online learning center to register your NLP certification e-learning account. We will activate your courses right away, giving you total access to the iNLP Center NLP modules (listed above) as well as our personal development courses.
For each of the 12 NLP training modules you will:
1) download the workbook
2) listen to the audio and watch the videos as the workbook directs
3) complete compelling exercises, psyche builders and stealth missions
4) report on your exercises through simple questions in the online school
We are ready to answer your questions at your convenience to make sure you understand the material. Whenever you need help or have a question, you will have direct access to a responsive NLP trainer that you can speak with over the phone or Skype.
Once you have completed the modules, Mike Bundrant will evaluate your coursework. Then your professional, printed NLP practitioner certificate will be signed and mailed to your physical address by US Mail.
If you choose to receive the course material and work offline, we will ship you a flash drive with the course as soon as you enroll. Read the instruction page and follow the directions that take you through each workbook with the accompanying audio and video files.
Complete the assignments and report via email to us with your essay responses. It's that simple! After you enroll, please contact us to let us know you would like the material shipped to you.
To make your NLP training even more valuable, we're including 6 incredible bonuses…each one a comprehensive personal development program in and of itself.
BONUS #1: The AHA Solution: How to End Self-Sabotage
This unique program addresses the most overlooked issue in personal growth: Psychological Attachments. When you understand your negative attachments, your hold the keys to changing those "impossible" behaviors and feelings that may have been part of your psyche for as long as you can remember.
BONUS #2: Zen Motivation: Beyond the Carrot and the Stick
Making personal changes can be tough. Even when we know those changes will lead to greater success — we still resist. One reason for this astonishingly high failure rate has to do with the typical methods used for self-motivation. Zen Motivation changes the quality of your motivation at the most fundamental level.
BONUS #3: Tame the DMN for Chronic Stress Relief
The Tame the DMN stress management program pinpoints the specific brain network responsible for generating the spinning thoughts and mind chatter that define high stress living. Learning to deactivate this brain network will help relieve your chronic stress… and change your life forever.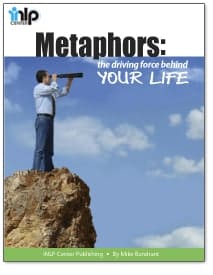 BONUS #4: Metaphors: The Driving Force Behind Your Life
So often we act as if we don't have a choice in the way we experience life. The truth is, you can radically change your world by changing your Life Metaphor.
BONUS #5: Cooling the Fire: The Conflict Resolution Strategy
Most of us attempt to resolve conflicts with other people in an unproductive way. We tend to do the exact opposite of what we should. Cooling the Fire explains why typical conflict resolution methods are ineffective… and introduces a better model.
BONUS #6: Three Soul-Stirring Questions
As you make an effort to improve your life, consider the following: What if some of your deepest needs were overlooked? Three Soul-Stirring Questions is an NLP-based course that will help you achieve higher self-awareness and greater personal freedom.
All prices are listed in US Dollar. Please inquire for custom NLP Training packages.
Other NLP Courses
Details:
Price
NLP for Addiction Counselors
Read More
• NAADAC Accredited (3 CEC's)
• Certificate Course
• Completely Online
$699


Or, Read More

NLP for Sales Professionals
Read More
• Certificate Course
• Completely Online
• For Individuals or Sales Teams
• Sales Coaching Available
On Sale!
$750


Or, Read More

Personal Development Program
Read More
• 6 NLP-based Courses
• Includes AHA Solution
• Completely Online
$129


Or, Read More